Coding the Impossible – Module 3
Course Format
Format
Weekly Class - 8 weeks, 2 hours per lesson
Holiday Camp - 5 days, 3 hours 15 minutes per lesson
Coding Level
Requires Coding the Impossible 2 or equivalent block-based programming experience
English Level
Eiken level 3 and above or comfortable with using English as the primary language in class
Course Summary
From a curious peek into classic games beloved by people all over the world, explore the nature of gameplay with code as our medium, as we recreate some of the most popular games over the years with Scratch!
Follow on course to Coding the Impossible 2
Practise and hone your coding skills by applying concepts in various contexts
Exposure to the nature of gameplay and design
Recreate some of the games that have defined play, fun and childhood for generations!
Practise and hone your coding skills by applying concepts in various contexts
Exposure to the nature of gameplay and design
Recreate some of the games that have defined play, fun and childhood for generations!
Put your own spin on your code creations and share them with your friends and family
What You'll Learn
In Coding the Impossible 2, we explored the creative construction of classic games and arcade games like Space Invaders and Flappy Bird. Having recreated some of the most popular games that have defined play for generations of kids (big and little!), we're now ready to take on more advanced challenges – with code, we'll create games that you'll have a blast building and your friends will have a blast playin'!
A platformer game is a game where players move characters across platforms – by running, jumping, flying, or more – in pursuit of a goal or mission. If you've ever played Super Mario, Donkey Kong, or MapleStory, then you're no stranger to platformer games!
Diving into game mechanics, build on programming concepts from Coding the Impossible 2 to program platformer mechanics, integrate customised game visuals, and more.
Pulling in a little bit of math and physics, learn to use operators and apply your understanding of concepts like gravity to code up your very own platformer game in Scratch.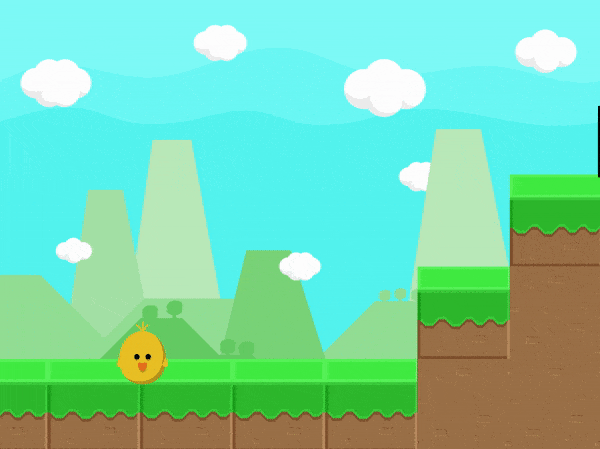 In scrolling role-player games (RPG), a player's screen scrolls in sync with a character's movement. Considered a significant milestone in the history of game design, go behind the hood to learn how scrolling RPG games like Harvest Moon and Pokemon are engineered as you build your own multi-level game.
Creatively applying and combining concepts like velocity, movement, coordinates, and more – build your own masterpiece that synergizes what you've learned about the world of games and the world of Scratch up to this point. And best of all, share what you've made with the world. After all, isn't that the point of makin' stuff – especially awesome stuff like games?
All of this sets you up to take on our biggest adventure yet – the world of games for good – in Coding the Impossible 4! How might we design and build games that provide more than entertainment and make a meaningful impact on the world we live in? Armed with our toolbox of coding superpowers and curiosity, we'll find out together in the final module of Coding the Impossible.
Pedagogy
No lectures. No memorisation. No ONE right answer. Like real life, we're all about trying things out yourself, failing, figuring what went wrong & trying again. These are the skills & mindset that will last a lifetime and how we learn in real life. Let's get kids to learn how to learn. Because the kids who learn to learn become curious, inventive, resourceful human beings who solve real world problems to make a meaningful impact.
Frequently Asked Questions
1. My child is new to computers and programming. Will he / she be able to follow?
Of course! This is our recommended introduction to programming course for kids 7 and up. Most of our students come in with no prior programming knowledge and they can still make awesome projects at the end of the day.
2. My child has done some Scratch programming at school. Should he/she still attend this course?
If you're not too sure how much your child knows about Scratch programming, email us a link to your child's Scratch profile and we can take a look and advise you.
3. My child is younger than 7. Can he / she join?
Scratch was designed for 7-10 year olds but is used by people of all ages. Sadly, having a 6 year old in the same class as a 10 year old may not result in the best learning environment for the younger student. If your child is very keen, we can organise separate classes if there is a minimum of 3 participants. Please contact us directly to enquire.
4. I've enrolled my child, what will he/she need to bring?
We'll provide all equipment and materials, but you may want to bring a jacket and light snacks in case he/she gets hungry.